When you want a specific domain name, and it is currently registered to another owner, you may think that you have no option but to wait and try to register is when it becomes available again. But you don't have to play the waiting game! Placing a backorder on a registered domain name is easy and takes the guesswork out of getting a domain name when it expires. Here is how you do it:
Create an account including your login username, password, a bid alias (which is public) and your contact and billing information.
Search for the domain name you want, and backorder the domain name by either clicking "Backorder" to place it directly in your cart, or click on the name itself to get more information about its availability and the expiration date.
When you have every name in your cart that you are interested in, simply check out and you are done!
How do I know if you got the domain name for me?
If the current domain name owner does not renew the name upon expiration, and we acquire the name for you, you will be notified via the email address you provided in your contact information when you created your account.
What if other people placed a backorder on the same domain name? Who gets it?
If you are the only person who placed an order on the domain name, it will automatically go to you when we acquire it. However, if multiple customers have placed an order on the same name, it will go into a private 3 day auction with only the people who had orders on it when we acquired it. During this time, you can bid against the other interested parties, and the name will be awarded to the person with the highest bid at the end of the auction. It's important to note that you can adjust your maximum bid - the most you are willing to pay for the name - and the our system will automatically increase your bid at the minimum increment until you are the highest bidder, and will never go over your maximum set bid.
Do I pay now for the names?
You will only be charged when we acquire the domain name for you. Because of this, it is important to keep your credit card information up to date, and your contact information current.
How do I check on the status of a domain name I backordered?
In your Buyer Dashboard, navigate to Pending Orders, where you will see backordered domain names that have not yet been acquired. If you change your mind at any time and would like to remove a backorder, you can delete your order here.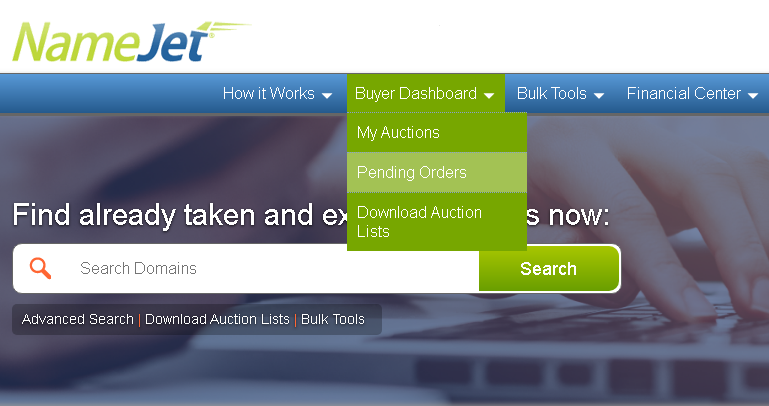 If you have any questions about how to backorder a domain name, please contact our Customer Support team.